Meguiar's Metal Polish, G211606, 6 Oz
Safely and effectively cleans all uncoated metals, including chrome and polished aluminum
Formula cleans and polishes without scratching, leaving a brilliant mirror-like shine
Quickly and easily removes oxidation, minor swirls, stains, and tarnish for clarity and shine
Ideal for restoring shine to uncoated metals on cars, boats, motorcycles, and more
Perfect when paired with Meguiar's G4400 Wheel Polisher Tool that attaches to a standard household drill
Clean
Restore
Shine
Protect
Maintain
Meguiar's Metal Polish is the perfect solution for polishing, restoring, and enhancing uncoated metals on your car, truck, motorcycle, or boat. Specifically formulated to quickly remove oxidation, minor swirls, stains, and tarnish that reduce shine and reflectivity. Specialized polishing agents clean without scratching, leaving surfaces with a bright mirror-like shine. Apply by hand or with a foam drill attachment like the Meguiar's Hot Rims Wheel Polishing Tool for brilliant clarity and shine on all uncoated metals, including chrome and polished aluminum.
Buy Direct
Find Retailer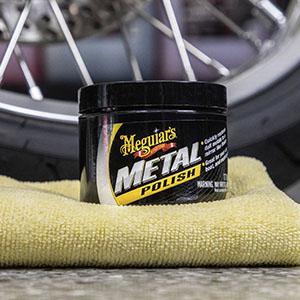 Meguiar's metal polish, ideal for polishing uncoated metals
This exciting and effective metal care product saves time because it cuts through oxidation, restores a brilliant mirror-bright shine, and helps to slow down future corrosion all in a single step. This premium metal polish works by quickly restoring dull, neglected bare metal surfaces that have tarnished with time and exposure to the environment. Meguiar's advanced formula polishes metals back to a brilliant, reflective mirror-like shine with specialized cleaners to remove oxidation, stains, and tarnish with ease. However, unlike many other metal polishes, Meguiar's Metal Polish not only restores a brilliant finish and is an easy-to-use formula is perfect for stainless steel exhaust, chrome-plated accessories, polished aluminum, brass, copper, and other uncoated metals.
Tips for getting the best results when metal polishing
Wash & dry all metal surfaces before use to remove all loose contaminants and debris.
Perform a test spot in an inconspicuous area first.
For best results, make sure the metal surface you are working with is cool to the touch.
Apply a small amount of Meguiar's Metal Polish onto the surface with a clean, 100% cotton terry cloth towel or a foam applicator like Meguiar's Soft Foam Applicator Pads.
Hard rubbing is not needed.
Gently rub the metal polish into the surface thoroughly.
Wipe off residue with a separate cotton terry cloth towel or microfiber towel like the Meguiar's Supreme Shine Microfiber Towel.
Enjoy the lasting shine.
Not recommended for gold plating, anodized, painted, or clear-coated aluminum.